NCSECU Member Access
NCSECU Member Access and Login.
Sign in to your State Employees Credit Union account via a mobile phone or your PC. Full login and registration guide and help for the most common login problems.
About NCSECU.
Please be aware that NCSECU (North Carolina State Employees Credit Union) and SECUMD (State Employees Credit Union of Maryland) are two separate entities with two separate online login pages. We have added both login pages below.
The North Carolina State Employees Credit Union (NCSECU) is a credit union in the United States, which operates under the authority of the NC Department of Commerce. It provides members with a range of financial services, including consumer loans, mortgages, credit cards and insurance products.
It is the second largest credit union in the United States, with more than two million members and more than 250 branches throughout the state of North Carolina. The credit union has its main headquarters in Raleigh, North Carolina and the union itself is federally insured by the National Credit Union Administration.
How Do I Register For a NCSECU Member Account?
Before attempting to register for NCSECU Member Access, it is important to first check eligibility. Membership primarily consists of employees of the state of North Carolina, federal employees working in conjunction with North Carolina state departments, and their immediate families. Membership eligibility rules can be found in full here.
Assuming you meet the eligibility criteria, you can register for an online account by visiting the Member Access Enrollment page, which can be found here. On that page, you will need to provide your 16-digit ATM/debit card number and your 3-digit Voice Response Number, and accept the terms and conditions, before clicking 'Continue'.
If you do not have a 3-digit Voice Response Number, you will need to contact your local branch. Once you have completed the first stage of the registration process, simply follow the on-screen instructions to create your account. Among other things, you will need to create a User ID and a new password to use with the service.
How Do I Log In to My NCSECU (SECU) Account?
NOTE: Please be aware that NCSECU and SECUMD are separate entities, though both are often referred to as "SECU".
The North Carolina State Employees Login page (NCSECU) is here.
The State Employees of Maryland Login page (SECUMD) is here.
NCSECU Login Guide.
After you have successfully registered for an account, you can sign in by visiting the homepage ( www.ncsecu.org ) and either using the 'Member Access' form on that page, or by clicking the 'Sign In' link in the top right hand corner. For mobile users, there is also a separate mobile login page, which can be found here.
Using the form provided, enter your User ID and password in the appropriate fields. To make this step quicker in future, if you are not using a shared computer and would like the site to remember your User ID, check the box labelled 'Remember Me'. Then, simply click the 'Sign In' button to gain access to your account.
Once you have signed in to NCSECU Member Access, you will be able to view account balances, check or request statements, view documents, transfer funds between Credit Union accounts, apply for loans and perform most of the major transactions you would be able to carry out from within a State Employees Credit Union branch.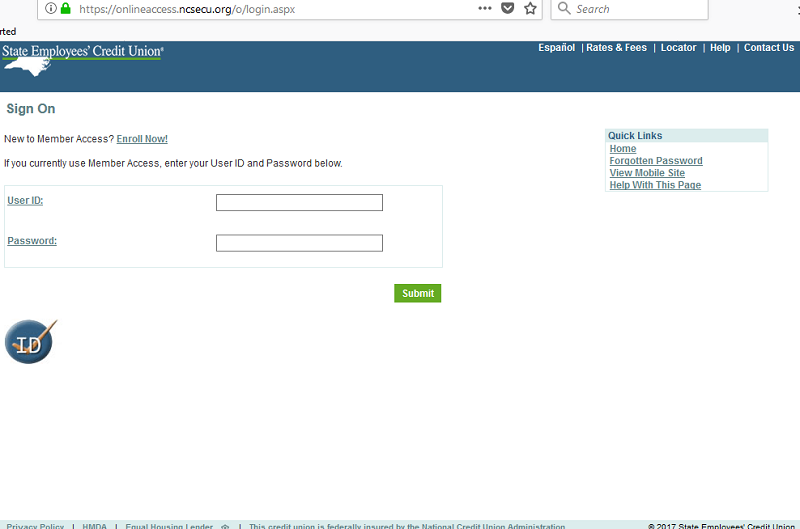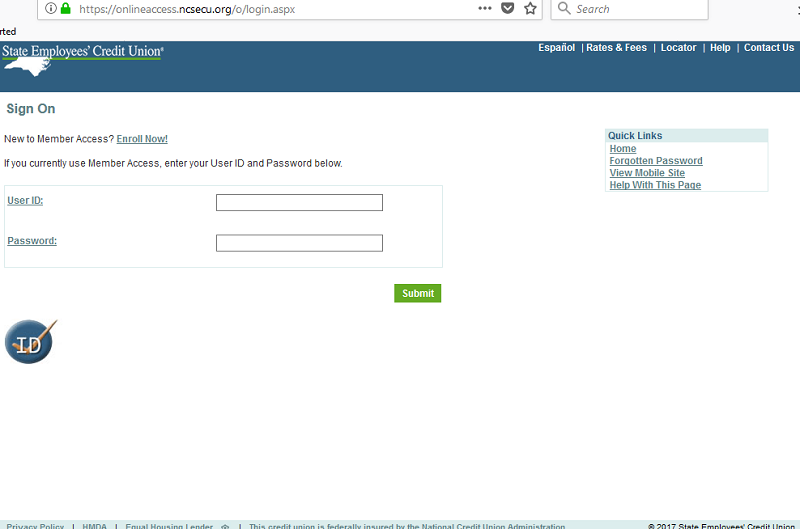 Common Login Problems for NCSECU.
As with most online accounts, it is somewhat inevitable that users will occasionally encounter NCSECU login problems. Thankfully, most of these problems have a simple explanation and a solution to match, so it is usually just a case of identifying the specific cause of the problem.
The first thing to check is that you are definitely entering the right login information. Pay close attention when entering your User ID and password, and check for typing errors before clicking the 'Log In' button. It is also important to remember that passwords are case sensitive, so you should turn CAPS LOCK off on your keyboard.
If you have forgotten your password, you can have your password reset by clicking on the 'Forgotten Password' link on the sign in form, or by clicking here. To complete the reset process, you will need to enter your User ID and your social security number (SSN). Passwords can also be reset by calling 24/7 member services on: (888) 732-8562.
For the protection of its members, NCSECU will automatically block access from old web browsers, which may have security flaws. For this reason, if you have not already done so, you should make sure you are using the newest version. It should be possible to sign in with up-to-date versions of Internet Explorer, Firefox, Chrome and Opera.
Nevertheless, if you continue to have difficulty signing in, it may be worth clearing your browser's cache and cookies, and restarting it before trying again. Should that fail to resolve the problem, try signing in using a different browser entirely, or even a different device, such as a mobile phone or tablet.
On rare occasions, the cause of your login issues may be issues with the NCSECU servers, or scheduled downtime allowing for maintenance work to be carried out. Unfortunately, the only real option when this occurs is to wait and try again later. It is very rare that such issues should last more than a couple of hours.
Please share your experiences with, or complaints about, the State Employees Credit Union, in the comment section below.
Click to Rate This Company!