WalmartOne Login
WalmartOne Help.
WalmartOne is the name of the associate portal for the Walmart Corporation. At Walmart One, you can check your schedule online, view your Walmart paystubs, see benefits information, and apply for holidays and days off, either from your desktop or with the WalmartOne App.
This page is dedicated to Associates' comments, discussion, questions and answers.
Walmart Associate Login.
The official login page can be found at https://authn.walmartone.com/login.aspx.
If you alrady know your user ID and password, then you can just proceed with entering them and login. If you do not yet have User ID and WalmartOne password, then click on the "Register" link.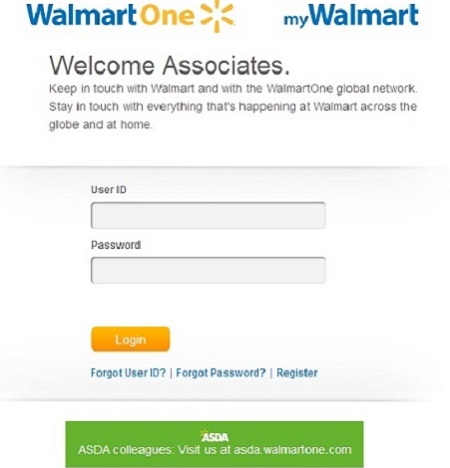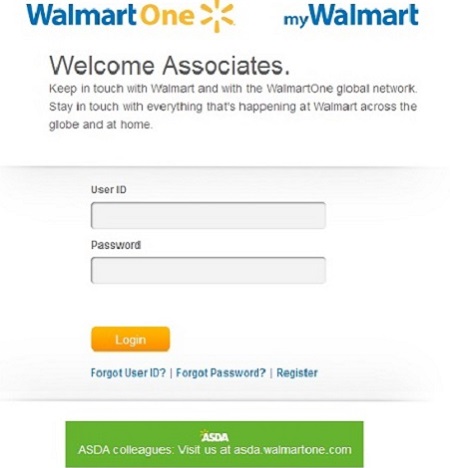 WalmartOne FAQ.
Question: I forgot my user name or password. What can I do?

Answer: Visit the login page and click the "Forgot User ID?" or "Forgot Password?" link. You can request that your user name be emailed to you, or reset your password using your security questions. If you do not have access to the email address that you registered with, or if you do not know the answers to your security questions, call WalmartOne's employee service team at (800) 421-1362.
Question: I forgot my WM1 WalmartOne app PIN?
Answer: Open the WM1 app, and select "username login", then log in with your user name and password. Once you log in, select the menu, then "settings" and "setup PIN number".
Question: Which browser should I use for WalmartOne?
Answer: Google Chrome or Mozilla Firefox are recommended.
Question: I cannot view my WalmartOne schedule online. What can I do?
Answer: Login in first and then check the the Schedule FAQ for more help on seeing your schedule online.
Question: I get the error, "User not found", when I try to register. What can I do?
Answer: The error means that the information that was entered doesn't match what's in the WalmartOne system. Please contact your Personnel Manager or HR Representative to verify your hire date and WIN (Walmart Identification Number).
Question: I'm have just been hired by Walmart. What now?
Answer: You cannot register a WalmartOne account until your information has been entered into all Human Relations systems. This takes a few business days, or even up until you receive your first paycheck. If you are a re-hire and were registered with walmartone.com earlier, you have register once more, as your old account will have been deleted.
Share your problem or ask a qustion in the comment section below.
Click to Rate This Company!