LiteBlue Login – Liteblue.USPS.Gov
LiteBlue.USPS.gov.
Liteblue is USPS's associate platform, used to check schedules, paychecks, benefits and more by all United States Postal Service personel.
LiteBlue Login.
How to log in to Liteblue.USPS.Gov:
Visit the official website, where you can log in to your Liteblue account, at www.liteblue.usps.gov.
Enter your Liteblue USPS Employee ID and USPS Self Service Password to sign in to LiteBlue.
Click on "Log On".
Your Liteblue USPS Employee ID is easy to find: Look at the top of your earnings statement. It will be the 8-digit number printed above the words "Employee ID."
Your USPS Self Service Password (SSP Password) is used to access a variety of USPS self-service applications.
If you have not set up your SSP password in the Self Service Profile (SSP) application, you must do so, before you can log in to Liteblue.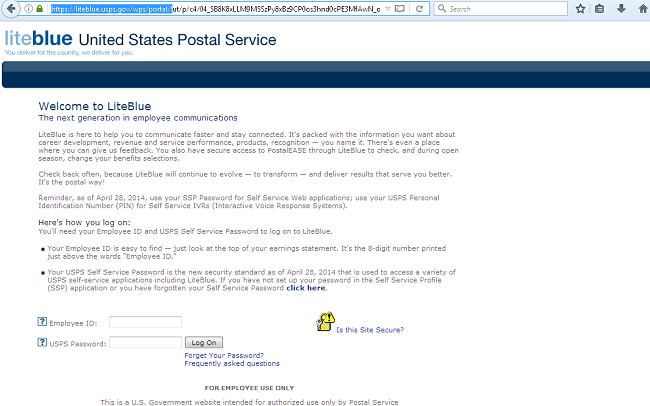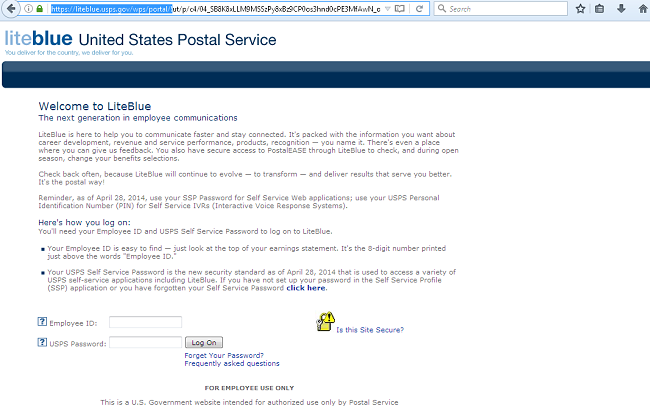 LiteBlue.USPS.Gov Registration.
As a new USPS employee, you must set up a SSP password in the Self Service Profile (SSP) application, before you can log in to Liteblue.
To make matters a little more complicated, you cannot set up a USPS Self Service profile on the Liteblue.USPS.Gov website. Instead, head over to www.ssp.usps.gov, where you will be greeted by a welcome page.
How to Register for Liteblue.
Open www.ssp.usps.gov in your browser.
Then, click on "Enter SSP".
Enter your USPS Employee Number.
Enter Your USPS password given to you by HR.
Click on "Sign In".
Remember, the Self-Service Password is different from the USPS ACE password, used for HR online applications.
Your PIN is now only used for IVR transactions.
Liteblue PostalEASE.
With PostalEASE, you as an USPS employee can make changes your benefits or payroll deductions.
To access the Liteblue PostalEASE, you must have your USPS Employee Identification Number and your password available.
The Liteblue PostalEASE login page is here;
https://ewss.usps.gov/cgi-bin/cgiclnt.dll/ewss/ND000_
Liteblue ePayroll and Schedules.
Can I see my work hours online at the Liteblue.USPS.Gov website, or on PostalEASE?
Yes, log in to Liteblue and go to LiteBlue/ePayroll.
It will show you all the work schedule details for each pay period, but it is not "live", so you cannot monitor your hours throughout the week, and keep tabs on how many work hours are recorded in TACS.
Liteblue will show your hours worked in the last pay-period, after the check from that period posts. You must record and track your own hours in an app or notework and then compare your paystub,to find any discrepancies.
How do I find my Liteblue USPS PIN number?
To have your USPS PIN mail to you, follow these instructions:
Call 1-877-477-3273.
Press 1, then enter your Employee ID which is printed at the top of your earnings statement.
When asked for your PIN, wait and then press 2. Your Liteblue USPS PIN will be mailed to your address of record on the following business day.
What is my USPS Liteblue employee ID number?
If you are a current USPS employee, your identification number is the letters "EIN", then followed by your Employee ID (an example is: EIN12345678).
Your USPS Employee ID is the 8-digit number printed at the very top of your earnings paystub, right above the "Employee ID" label.
How do I reset my Lost/Forgotten Liteblue Password?
To reset your Lite Blue password, do the following:
Go to the USPS Self-Service Profile password reset page here.
Enter your 8 digit Employee Identification Number (EIN).
Click on "Verify Employee ID" and follow the instructions.
How to access the Liteblue.USPS.gov Human resources HR website?
The USPS HR website portal, with company news, can be found here.
On this page, you can read about USPS benefits, news,  applying for jobs, retirement and much more.
This page can be hard to find as there is no direct link from the www.Liteblue.usps.gov Home Page.
How do I contact USPS Liteblue HR?
HR Shared Service Center (HRSSC) contact information:
USPS HR SSC Phone Number: 1-877-477-3273, option 5
HRSSC (TDD/TTY): 1-866-260-7507
PostalEASE Phone Number: 1-877-477-3273, option 1
HRSSC Hours of Operation: Monday – Friday, 7 a.m. ET – 8:30 p.m. ET
USPS Job Bidding phone number: 1-800-222-2415. TDD access: 1-800-265-7208.
HRSSC Benefits:
Address:
PO Box 970400
Greensboro NC
27497-0400
HRSSC Retirement:
Address:
PO Box 970500
Greensboro, NC
27497-0500
LiteBlue Resources.
Liteblue Login
Self Service Profile and Password.
Self Service FAQ
PostalEASE Login
Click to Rate This Company!