GoDaddy Email Login
GoDaddy Email Login.
Get help with logging in to your GoDaddy Email account, also known as 'GoDaddy Workspace Webmail'. Login help, troubleshouting and lost password help.
We have also added a list of GoDaddy's customer service options, including GoDaddy phone numbers and live chat services, in case you need further help.
GoDaddy Webmail.
What is GoDaddy Email?
GoDaddy Inc. is an Internet domain registrar and web hosting company. GoDaddy serves approximately 13 million customers and had 4,908 employees worldwide.
The GoDaddy Email service is called 'Workspace Webmail' and is another part of GoDaddy's product offerings. The GoDaddy Workspace emails are stored and backed up independently of your cPanel account, if you have a hosting account.
The GoDaddy Workspace Email service allows you to create email addresses that correspond to your chosen domain name, for example [email protected] or [email protected] etc.
The GoDaddy Workspace Webmail solution is a good choice for small and large businesses: You can get 50 GB email storage, 1 TB secure online storage and Microsoft Office 365 installed on your PCs or Macs.
Use this guide to help you login, if you are having problems.
GoDaddy Workspace Email Login.
How do I  login to my GoDaddy Workspace Email account?
Desktop/Laptop Computers (PCs and Macs):
Visit the email login page or go to the url email.godaddy.com, and you will be redirected.
Enter your primary account email address in the 'Email' box.
Enter your GoDaddy Workspace email password in the 'Password' box.
Click on 'Sign In'.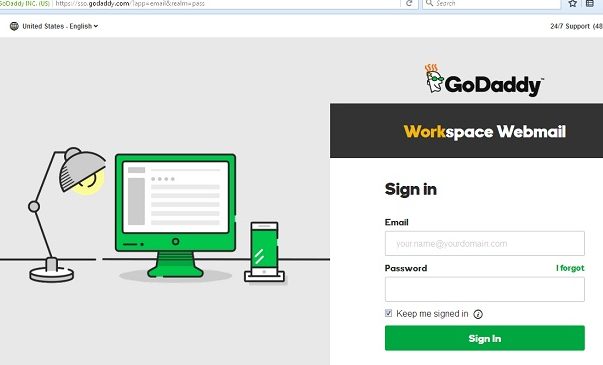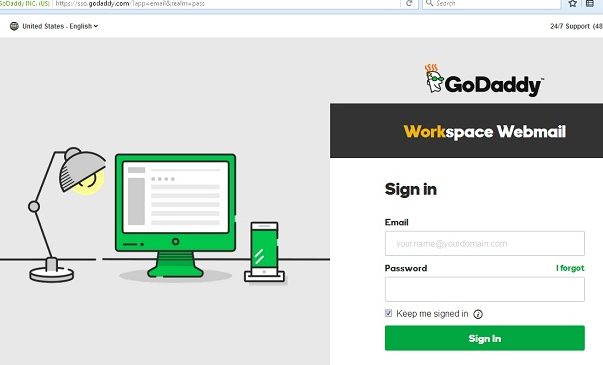 Mobile Phone Login:
Go to the mobile login page.
Enter your primary email address in the Email box and password in their respective fields.
Enter your GoDaddy Workspace email password in the 'Password' box.
Tap on 'Sign In'.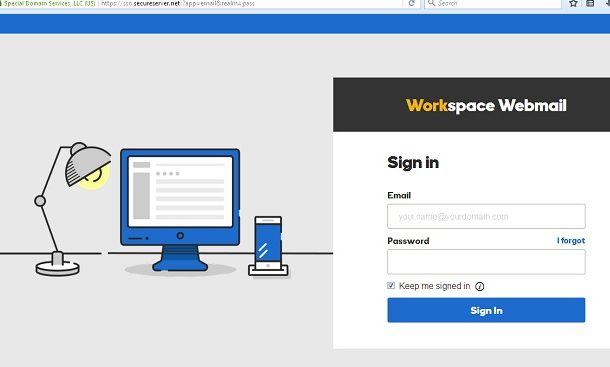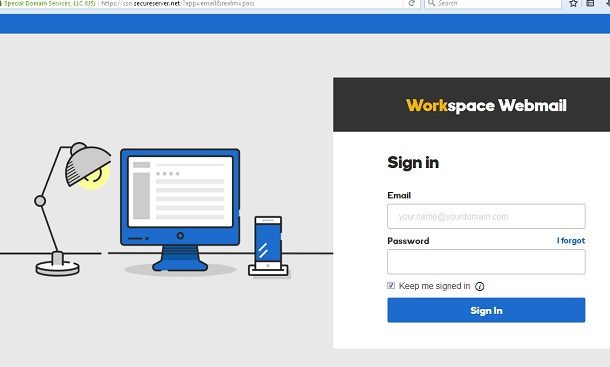 Email Login with the GoDaddy App.
Download the GoDaddy mobile app yo your phone.
The GoDaddy Mobile iTunes app can be downloaded here.
The GoDaddy Mobile Android app can be downloaded here.
Tap on the App Icon to open it up.
Tap on  'Check Mail'.
Enter your email address.
Enter your password.
Tap 'Access Your Account'.
I have forgotten my GoDaddy Workspace Email password.
If you have forgotten your GoDaddy email password, then simply visit the login page in click on the the green or blue 'I Forgot' link next to the password box. Or go directly here.
Then enter your username or GoDaddy email address and an email will be sent to your email address with further instructions on how to reset your password.
GoDaddy Workspace Email Login Problems.
If you are having problems logging in there are a few things to try out first.
Try switching to the desktop or mobile login page, and see if the problem persists. The Desktop Login here can be found here, and the Mobile Login page here.
GoDaddy Webmail passwords are case-sensitive. Check that the CAPS LOCK button on your keyboard is OFF, and remember to enter the correct lower and upper case characters, when you enter your password.
Try logging in from another browser, for example Chrome, Mozilla Firefox or Internet Explorer. Make sure that your browser is not blocking GoDaddy's cookie.
Try deleting all cookies and clear your browser cache.
Make sure that your email account is actually set up.
Check that you have the correct username and password.
If you still cannot access your GoDaddy email account, then contact the system administrator, who set up your account, or contact the GoDaddy customer service team through the methods listed below.
GoDaddy Customer Service Phone Numbers and Contacts.
GoDaddy's U.S. customer service phone numbers are:
For English call: +1 480 505 8877    –  24/7 Support.
For Español call: +1 480 463 8300   –  24/7 Atención al cliente.
Alternatively, try calling on 1-866-938-1119. This number is reported to have to lowest waiting time, at around 10 minutes.
A complete list of GoDaddy's International support phone number is located here.
GoDaddy Live Chat.
After GoDaddy did away with customer support via email, the fastest and easiest way to contact a GoDaddy customer service representative is through their Live Chat service.
Visit the GoDaddy Help page, and click on the green 'Chat With Us' link in the top right hand corner. If the Chat service is closed the link will be grey, and say 'Chat Offline'.  The GoDaddy Live Chat service is not open 24 hours a day. If you get the 'Chat Offline' message, then try waiting 5 minutes or reloading the help page. If often helps.
Please share your experiences, praise or complaints about the GoDaddy Workspace Email service, in the comment section below.
Click to Rate This Company!