Corrlinks Login
Corrlinks Login.
Corrlinks login help and answers to frequently asked questions.
CorrLinks is an online system for family and friends to electronically communicate with inmates in institutions.
Corrlinks is a privately owned company. The system utilizes the Trust Fund Limited Inmate Computer System (TRULINCS) email system used by the United State Federal Bureau of Prisonsin order to for inmates to communicate with friends and family outside prisons.
TRULINCS is a fee-based system. The system provides direct email access to federal inmates, but inmates must pay $0.05 per minute for use of this system, and can print messages at a cost of $0.15 per page. Sending a message can cost up to $0.30. All incoming and outgoing messages are monitored.
Not all federal inmates have Corrlinks access, and especially criminals imprisoned for computer related crimes can be banned from using the service. The Corrlinks service does not allow prisoners access to the Internet and emails are limited to 13,000 characters and no attachments are allowed.
Corrlinks Login.
To login to your Corrlinks account, you must visit the main login page, and enter the email address that you signed up with and your password.
If you have forgotten your Corllinks password, then navigate to the Forgot Password page, enter your email address and solve the CAPCHA, click on 'Next' and follow the instructions to reset your password.
If you are problems with the Corrlinks Email login, then check the following:
Make sure that the CAPS LOCK button is OFF on your keyword.
Make sure that you enter the email address that you signed up with, and not an alternative email.
Make sure that your password includes at least one upper case letter and 1 number. The system. You may have forgotten that you used an upper case letter or a number in your password, when you signed up.
Try logging in from another browser or device.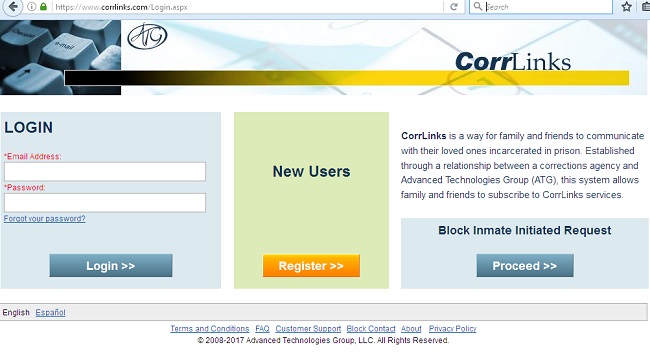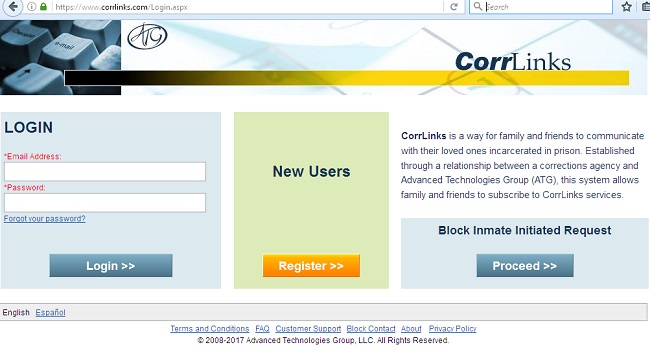 How to Register on Corrlinks.com.
Register by visiting the Registration Page and enter these details: First Name, Last Name, Email Address, (Re-Type Email Address), a Password of your choice, (Re-Type Your Password). Your password must be minimum 8 characters including at least 1 uppercase letter (A-Z), 1 lowercase letter (a-z), and 1 number.
If you have received an invitation email, then please insert the Identification Code from the email, as well.
Remember to tick the 'Terms and Conditions' box and press the Next button.
Corrlinks Mobile Login.
If you are trying to sign in from a mobile device or phone, then please be aware that Corrlinks have a dedicated mobile login page located here.
You will still need to enter your Email Address and Corrlinks Password to enter the system.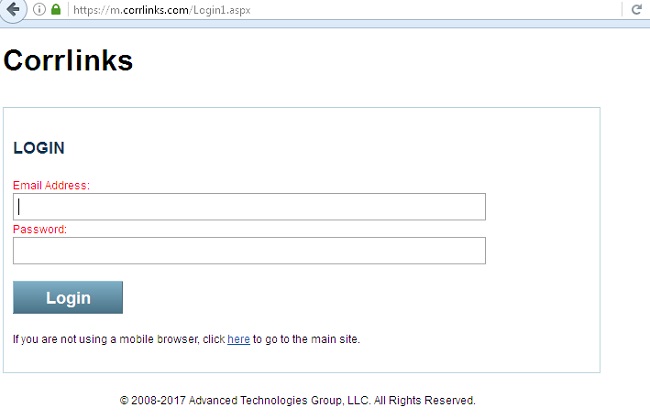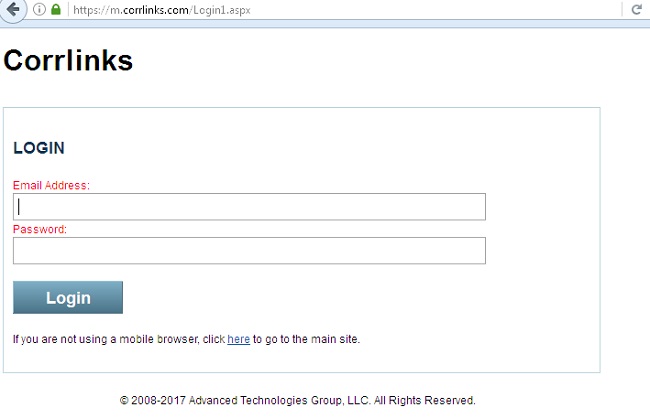 Corrlinks App.
If you are using a smart phone then you might want to log in through the CoorLinks App, which is now available for Android and IPhones.
You can test it out for free for 14 days.
Some of the app's benefits:
– Mobile phone access to CorrLinks
– Immediate notification of incoming e-mails.
– Stores 60 days of e-mails instead of the standard 30 days
– No CAPTCHA is required when emailing through the Corrlinks app
– Attach up to 3 mobile devices to your account!
– A Premier Account only costs $6.00 per year.
The Corrlinks Email System Explained in 1 minute.
Watch this video for a quick introduction to the Corrlinks email system and how you can chat or block an inmate.

Corrlinks FAQ.
Answers to all your Corrlinks related questions.
1. Question: How do I use the Corrlinks.com website?
Answer: First, register and create an account by agreeing to the terms and conditions. You must also transfer money to your account with a Mastercard or VISA card, as the system may charge you for sending messages.
An User ID code will be emailed to you. This ID code must be entered in the system, when you are signing in. You also must have the 'inmate number' of the inmate that you are trying to contact.
2. Question: How much does it cost to use the Corrlinks.com website?
Answer: The Corrlinks.com system does not charge for communication from/to inmates in prisons that are operated by the Federal Bureau of Prisons or CoreCivic (CCA). For other facilities there will be charges. The charges vary from facility to facility.
Typically, prisoners will have to pay $0.05 per minute, while a sent message can cost up to $0.30 per message.
3. Question: I have sent a message. When will the message be recieved?
Answer: The institution staff can review, hold or reject any sent message. So, this depends on the staff.
4. Question: My message was rejected, so can I get a refund?
Answer: No, charges can not be refunded.
5.  Question: I don-t know how to use the Corrlinks.com website. Can I call a customer support line?
Answer: Only online support is available, so no, you cannot call for help.
6. Question: Will my Corrlinks messages be reviewed, or checked by staff?
Answer: The facility, from where the messages are sent, can choose whether or not to review or monitor any outbound communication. So, yes messages can be monitored.
7. Question: I have forgotten my Corrlinks login or Corrlinks password. What should I do?

Answer: Corrlinks staff does not reset passwords, or User ID. You will need to use the Corrlinks self-service reset function.
8. Question: Does CorrLinks  have Online Support?
Answer: Yes, you can contact CorrLinks online from the Customer Support help page.
9. Question: I did not a verification link, when I registered. Why not?
Answer: First, check your email spam filter to see if the email has ended up there. If not, you can have the email sent to you again, here.
10. Question: How can I send a message via the Corrlinks system?
Answer:
1: Login  at www.corrlinks.com
2: Click Mailbox and then 'New Message', then "Click to add recipients". Choose the inmate.
3: Type in a subject and message and then click on Send
11. Question: It says that my inmate is unavailable. Why?

Answer: A prison facility can restrict an inmate's messaging. The inmate cannot be contacted in these periods.
12. Question: I want to unblock an inmate. How can I do that?
Answer: In order to unblock,  you will have to send a written request to the facility. Find mailing addresses at www.bop.gov.
13. I want to block an inmate. How can I block this person?
Visit the Corrlinks homepage. Find "Block Inmate Initiated Request", and click om proceed.
You will then have to enter your email address and id code. Choose the inmate to block and press Confirm.
Please share any complaints or questions about the Corrlinks.com website or app, in the comment section below.
Click to Rate This Company!