HotSchedules Login
HotSchedules Login.
Everything you need to know about Hotschedules, including a detailed login guide for PC and Mobile phones, registration help, and a full list of ways to contact the Hotschedules Customer Service.
Update: Hotschedules is now powerd by Fourth.com, but you can still use the old login page.
About Hotschedules.
HotSchedules ( www.hotschedules.com ) is an employee scheduling platform and mobile app, which is especially popular in the restaurant industry. The service provides a range of features, including the ability for managers to communicate with staff, keep track of metrics in real-time and schedule and plan shifts for employees.
The platform is owned and operated by HotSchedules, Inc. which was founded back in 1999. Both employees and employers can make use of the service, with different levels of access being set for the two groups. For employees, the platform allows them to easily view their shifts, pick up new shifts, or swap shifts with their co-workers.
How Do I Register For a HotSchedules Account?
In order to register for a new HotSchedules account, you will first need to be given a Welcome Sheet by your manager. This will contain temporary login details, which can be used to sign in and then set up your account. An example Welcome Sheet can be viewed here. Speak to your manager if you have not yet received one.
Once you have the Welcome Sheet containing your temporary login credentials, go to the main HotSchedules homepage and click the 'Login' button in the top right hand corner. Then, enter the username and password contained on your Welcome Sheet and click the 'Log In' button underneath.
You will then be directed to an account setup page, where you will be able to choose your own username and password for future use. During this stage, you will also need to create your own security questions. Upon completing this setup process, your new account will be registered and you will be able to utilise HotSchedules.
How Do I Log In to My HotSchedules Account?
After completing the account setup process, the HotSchedules login process is simple and can be carried out in much the same way as during initial account registration. Visit the homepage and click the 'Login' button in the top right of the screen. Then enter your login credentials and click 'Log In'.
Remember, you should now be entering the username and password that you chose during the setup process, rather than the login credential given to you by your employer. If you are using your own personal computer or device, and do not share it with others, you can select 'Remember Username' before clicking 'Log In' to make signing in quicker.
Alternatively, you can sign in through the mobile app. To do this, launch the app on your mobile or tablet, click 'Login' and follow the same basic procedure outlined above to access your account.
The direct link to the Hotschedules Login page can be found here.
An alternative mobile optimized login page is located here.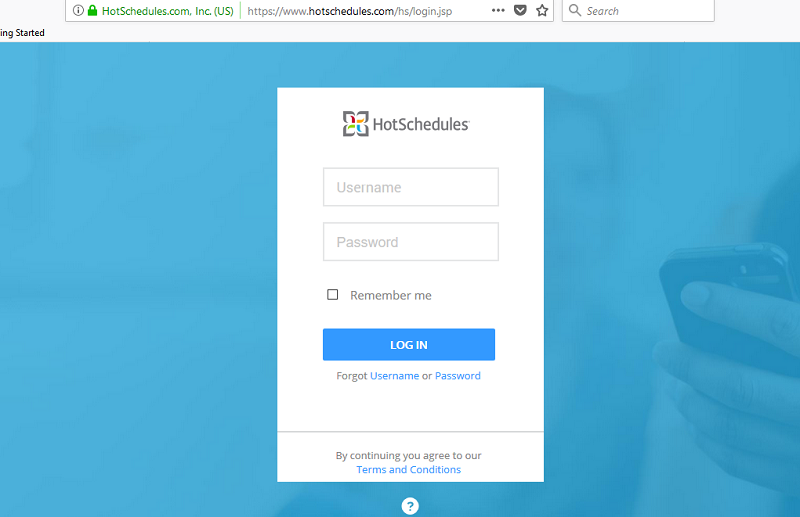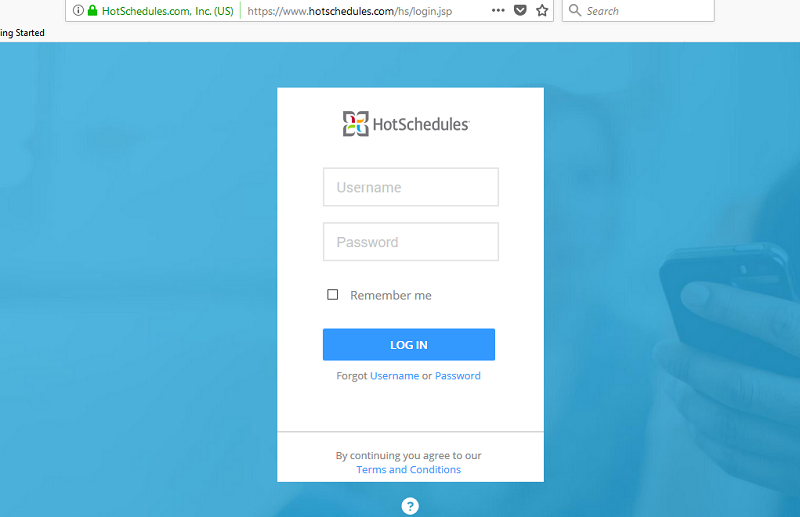 Common HotSchedules Login Problems.
Occasionally, users may encounter difficulties when attempting to sign in to their HotSchedules account. However, there is usually a simple explanation and a solution to go along with it. Therefore, if you are experiencing problems, most can be resolved by following this troubleshooting guide.
The first and most obvious thing to check is that you are trying to sign in with the right login details. The username and password you use should have been chosen by you during the setup process, unless this is your first time signing in, in which case the details will be provided on your Welcome Sheet.
Check to make sure you have inserted the right information, without any typing errors. Remember, your password is case sensitive, so upper case and lower case letters need to be used exactly as they were when you signed up. For this reason, it is important to make sure your CAPS LOCK and NUM LOCK functions are both switched off.
If you have forgotten either your username or password, you can retrieve them from the main login screen. Under the sign in form, you will see text saying 'Forgot Username or Password'. Click on either the word 'Username' or 'Password' and follow the instructions to reset your password or retrieve your username.
It is worth noting that the HotSchedules website is optimised for Internet Explorer 10 or above, as well as the latest versions of Firefox, Chrome and Safari. If you are using an older browser, try updating it before attempting to sign in again. Similarly, if you are using a different browser, try using one of the aforementioned options instead.
From time to time, users may experience issues caused by maintenance work or problems with the HotSchedules servers. Such issues are rare and usually short-lived, but when they do occur, there is no real solution other than to wait for the work to be carried out and then try again later on.
Finally, in the event that you continue to experience long-term problems, and you are sure are sure you are entering the right credentials, try clearing your browser's cache and cookies, then restarting it and trying again. If that still does not work, you should contact the customer support team using the details at the bottom of this page.
Where Can I Download the HotSchedules App?
One of the key benefits of HotSchedules over other similar services is its compatibility with different devices. For mobile and tablet users, a dedicated app is available, making employee scheduling simple, even when on the move. The app is available on devices running either Android or iOS and can be downloaded by launching either the Google Play Store or Apple App Store on your device, searching for "HotSchedules" and installing the app in the usual way.
HotSchedules Customer Service Phone Numbers and Contacts.
If you have any questions about the service, need assistance when setting up your account, or are experiencing issues, you may need to contact the HotSchedules customer service team.
The main Hotschedules customer support line is 1-877-720-8578.
The number to call for support when setting up an Hotschedules account is 1-866-753-3853.
For those who would prefer to get in touch via email, the address to use is: [email protected]
Happy  or unhappy with Hotschedules? Please share your experiences, complaints or praise for Hotschedules in the comment section.
Click to Rate This Company!