EngradePro Login
Engrade Pro Login.
Everything you need to know about the www.EngradePro.com website.
Get Engrade Pro Login help, learn how to recover a lost password or username, and see how you can contact the  Engrade Pro customer service support.
Also, please note, that starting from the 1. of January, it will no longer be possible to use the free version of Engrade at www.engrade.com.
UPDATE:  Access to engradepro.com is no longer available. Visit https://www.mheducation.com for educational resources.
What is EngradePro?
Engrade Pro integrates all of a school district's software and systems, including third-party applications and open education resources, into one fully secure and cloud-based platform.
Engrade is used by more than 3.500.000 students and parents to help keep up with grades and homework assignments. Engrade was acquired by by McGraw-Hill Education in January 2014.
With  the Engrade Pro tool a parent or student can view a student's grades and homework with a single username and password. The class teacher will give an Engrade Pro user with an access code, username and password, that enables to user sign in to the platform.
Engrade Pro has four product groups:
Corebook – Gradebook designed for standards-based grading and Common Core alignment.
Teach – a school-wide content management system.
Assess – a PARCC and SBAC aligned student assessment tool.
Improve – processes data from Engrade tools to provide district-level reports about student performance.
Engrade Pro Login.
Logging in to the Engrade Pro website is quite straightforward, but if you are having problems, then you could be at the wrong login page.
Keep in mind that the free version of the Engrade platform at www.engrade.com was terminated on the 31. December 2016. This only affects users of the Engrade.com platform. If your school uses the paid version of Engrade Pro, this will not impact your account. The data that was stored in your old Engrade.com was accessible until December 31, 2016. After that date, all account data is no longer accessible.
Now, the correct Engrade Pro login page is located here.
An alternative Engrade Pro user login page can be found here, and a student login here.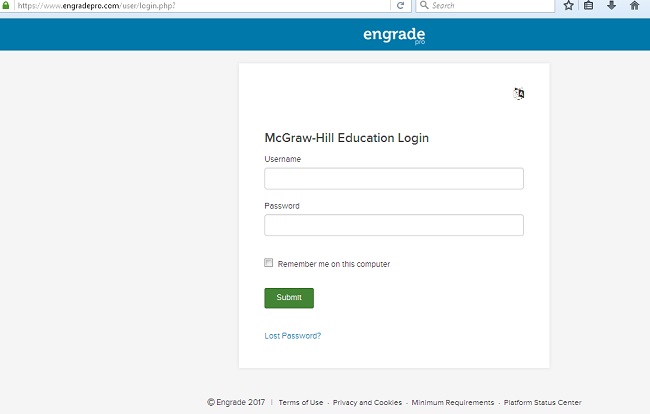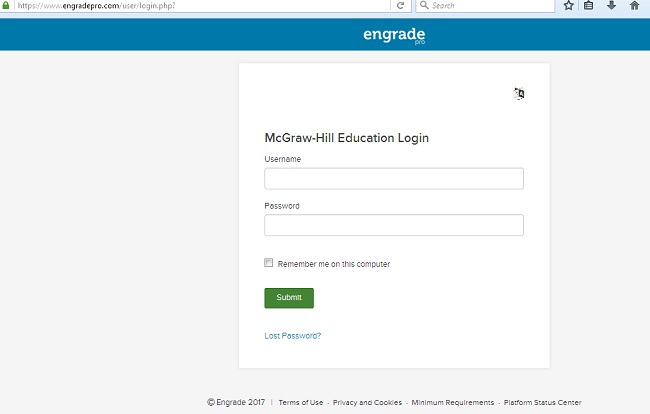 Engrade Pro Mobile Login.
Engrade Pro has a login phone designed specially for mobile phone users.
The Engrade Pro mobile login page can be found here.
Engrade Pro Apps.
You can find the Engrade Pro app for download here:
An Engrade Pro app for Iphone is not available at this time.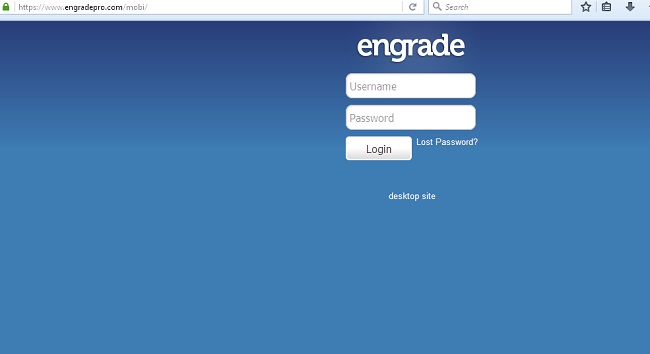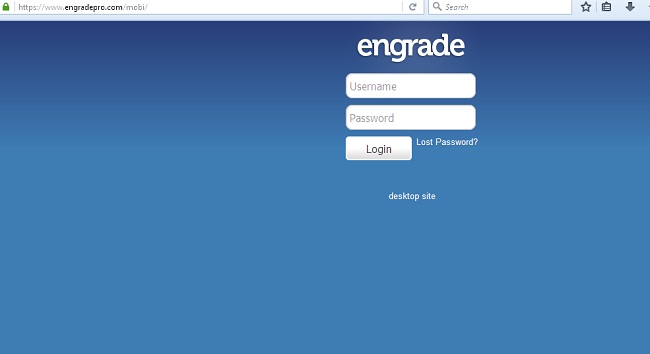 I have lost my EngradePro password.
If you have lost your login password, then go to the Lost Password page.
Enter your Username or Email address, submit, and an email  is sent to your email address with instructions on how to reset your password.
I have lost my EngradePro User Name.
You will need your correct username to access your EngradePro account. Your username is NOT the email address that was used when your Engrade Pro account was created. EngradePro usernames do not support special characters , like @, ./-+ etc.
If you have forgotten your Engrade Pro Username, then go to the Lost Password page. Enter your email address and an email will be sent to you, that includes your Username.
Engrade Pro Login Help – FAQ.
If you get an error message, when you log in, then you can try the following:
Clear your browser history, cache, and cookies on your computer. Clear your entire browsing history. Make sure that your browser is an up-to-date version, and update it, if it isn't.
Try logging in to Engrade Pro with a different browser, i.e Chrome, Explorer or Mozilla Firefox.
Try logging in to Engrade Pro with another computer, or from an iPad or mobile device.
Engrade Pro does not work on my computer.
There are minimum system requirements for your computer or mobile device.
These are:
Internet Browsers.
Engrade Pro supports these browser versions:
Google Chrome 40+
Mozilla Firefox 35+
Internet Explorer 11+
Apple Safari 7+
You can determine your browser's version in the browser help or settings menu. Upgrade to a newer version for a better EngradePro experience.
Windows Recommended Requirements:
Windows 7+, 1GHz processor, 1GB RAM, 80 GB hard drive or at least 1 GB hard drive space available.

Minimum requirements:
Windows XP (service pack 3)
Pentium 233 MHz
128 MB RAM
52 MB hard drive free space
Mac OS X Recommended Requirements:

Mac OS X 10.9+, 1GHz processor, 1GB RAM, 80 GB hard drive or 1 GB of hard drive space.
Minimum requirements:
Mac OS X 10.9 Mavericks
Intel xB6 / PowerPC G3 (300 MHz)
256 MB RAM
200 MB hard drive free space
Tablets and Mobile Phone Versions.

iOS 7+
Android 4.0+
Windows 8.0+
You will also need a stable, good internet connection.
Engrade Pro Support.
For help with technical issues, product questions, report card questions or login help, visit the EngradePro Email Help Form. Choose a subject, enter your credentials and your problem, and click on submit.
There is no customer support phone number for Engrade Pro users.
The company has also compiled a list of PDF Help files, that can help new users tremendously.
Open the PDF files here:
Please share your experiences, praise or complaints about EngradePro, in the comment section.
Click to Rate This Company!