Walmart Money Card Login
Walmart Money Card Login.
Everything you need to know about the Walmart Money Card:
How to login, how to apply and register your card, make a payment, how to check your balance and credit your account. Also, see all customer service phone numbers and contacts.
The Walmart MoneyCard is a prepaid and re-loadable payment card that enable cardholders to pay for goods without cash or a credit card.
You can use your Walmart MoneyCard for:
Purchases everywhere that the Debit MasterCard® or Visa® debit cards are accepted in the U.S.
Depositing checks with your smartphone camera
Writing checks to pay rent and other bills. Order personalized checks with the Walmart MoneyCard Mobile App.
Paying bills with the bill pay service.
Sending money for free to another card issued by Green Dot Bank.
Getting 1% Cash-Back on Walmart store purchases.
Getting 3% Cash-Back on Walmart.com purchases.
How to Check your Walmart Money Card Balance.
Checking your balance online.
If you want check your Money Card balance online, visit the Walmart MoneyCard 'Create Account' page and register for an account. You will need the 16-digit card number, card expiration month and year, and your date of birth, as well as  zip code in order to create an account. After creating the account you can login and view your available balance.
Checking your balance with the Walmart Money Card Phone App.
The Walmart MoneyCard mobile app is available from Google Play and the iPhone App Store. Download the app, enter your login ID and password. You can then check your balance, view transaction history, deposit checks or search for ATMs that allow Walmart MoneyCards, all from your mobile phone.
Checking your Walmart Money Card balance with a Text Message.
You can sign up for text messages from within the online account dashboard. The all you have to do is to text BALXXXX (the XXXX are the last 4-digits of your card) to the number 96411, and you will get your balance sent to your phone by SMS. The only charge for this service is the price of a text message from your mobile phone service provider. You can also receive daily texts or email account alerts by opting in for this service from within your account preferences.
Activating your Walmart Money Card.
Your card must be activated before you can use it. Visit the card activation page and register your card with your card details.
Reloading funds to your Walmart Money Card.
How to add money to your MoneyCard:
You can add funds to your card with cash or by a cashing a check at participating Walmart store.
You can also opt in for direct deposits,  or add money through an online bank transfer. Finally, you can deposit a check by verifying it using your smartphone camera with the Walmart MoneyCard mobile app. This 'Photo Check Deposit' option is available to Walmart MoneyCard customers with the Cash-Back Rewards product.
The Walmart Money Card Customer Service Phone Number.
If you need help with your card, then the Walmart Money Card Customer Service phone number is: 1-877-937-4098.
How to Report Your Card Lost or Stolen?
If you lose your Walmart Money Card or it is stolen, then login in online or through the app, and click on the lost/stolen report option. The card will be closed, the remaining balance will be added to an new card, and the new card will be mailed out to your address. Alternatively, call the customer service number above.
How to log in to my Walmart Money Card account.
The correct Walmart Money Card Login page can be found here.
You will need to create an account first, if you have not already done so, in order to sign in.
If you have forgotten your User ID or Password, then click on the Forgot User Id or Forgot Password links on the login page and follow the instructions.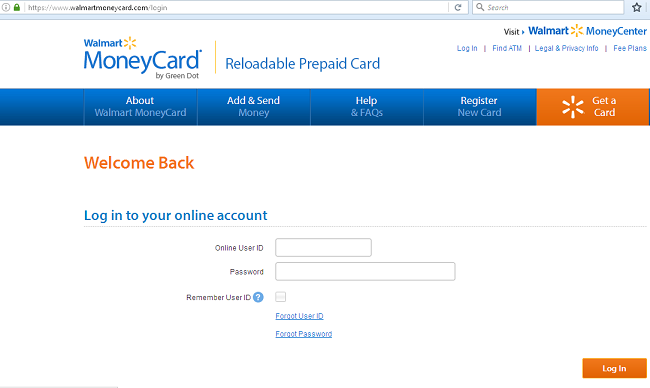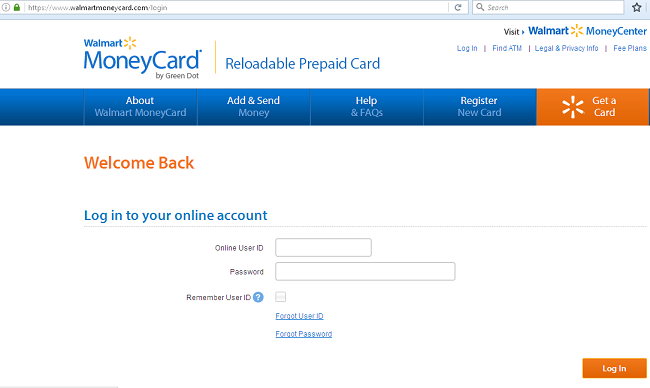 The Walmart Money Card is not a credit card. For more on credit cards, please see the Walmart Credit Card Login page.
Click to Rate This Company!